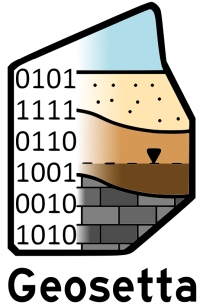 Mission:
Build a Repository of Subsurface Investigation Data from Publicly Funded Sources and Derive Valuable Geotechnical Engineering Tools for The Mutual Benefit of The Data Owners and The Geotechnical Engineering Profession.



Vision:
To extract the maximum value and clarity from historic geotechnical data in an open format and save our users time and money by using cutting edge technology on aggregated geotechnical data.



Non-Profit:
Geosetta is a registered Non-profit company, based in Maryland. We are committed to building a shared resource for the geotechnical engineering profession. Geosetta is providing this data in an open format to ensure sharing and collaboration. This nonprofit structure ensures that we develop this tool such that both the data owners and users can benefit. Geosetta needs your support to remain an independent steward of this valuable data resource.



What is Geosetta?
The Geosetta name gets its inspiration from the concept of a Rosetta stone for Geotechnical data.
Provides a platform for hosting subsurface investigation/geotechnical data from various publicly funded sources throughout the United States.
Provides a preliminary understanding of anticipated subsurface conditions.
Geosetta developed geospatial and visualization tools, with machine learning techniques applied
Geosetta is NOT a substitute for site-specific subsurface investigation
In partnership with public agencies and private entities, Geosetta, Inc. is creating a "living" geotechnical database that will be routinely updated with additional data as it becomes available. This will involve running customized routines on large sets of files, including csv, gINT, database snapshots, and other formats. Geosetta only extracts data that is needed both for machine learning (predictive models) and for the general geotechnical user for planning purposes.


A historic data point or predicted model will typically include test boring information such as location coordinates; SPT data including depth/elevation, blow-count for each interval, recovery; major soil types; moisture content; rock type, core recovery, and RQD; and groundwater levels.


Using Geosetta's predictive models, the user will gain an initial understanding of expected subsurface conditions that will help in planning an optimized, focused geotechnical exploration program. Thus, achieving our mission of saving the practitioners' time and money.



Geosetta Current Features
Geosetta enables users to define their site's boundaries and:
View the geology of the area, with references.
Generate a ground surface profile along a pre-defined line on the map and export the coordinates to an Excel spreadsheet.
View existing boring data including instant viewing of boring logs in DIGGS format
Generate a point cloud for any location, which allows measurement and subsurface visualization.


Features Coming Soon:
Ability to obtain a predictive soil stratigraphy model at the coordinates of interest based on machine learning on the available data.
Ability to generate point cloud that includes Digital Elevation Model data, Satellite Imagery and machine learning based predictions.